Moe Saghir 
Founder & Managing Director
With more than 17 years of experience in the construction industry, Moe brings a variety of skills to the table. He is viewed as an exceptional leader amongst his team, and he has a wealth of knowledge when it comes to project management, team building, and construction methods.
In his own words:
"I totally focus my thoughts, energy, and attention on the successful outcome of whatever I am doing. I always strive to achieve win/win outcomes for myself and those with whom I work. At all times, I display my inner pride, prosperity, competence, and personal confidence.
Good isn't enough. I always strive to deliver products and services of exceptional quality that add value to all involved for the long term. I look for ways to do more with less and stay on a path of constant and never-ending improvement and innovation."
Our Mission
We're Committed to Our Customers
At Kay2 Contracting, we are committed to ensuring customer satisfaction in every aspect of our work. This commitment is accomplished through our full-service contracting company providing quality work, integrity, and on-time service, no matter how large or small the job may be. Our knowledge and expertise in the construction industry enable us to offer a trusted and reliable service that is backed up by continual training and development for our team members.
We also take an immense amount of pride in offering and providing our clients with all the tools required to turn their dreams into reality. This process begins with a free in-house consultation with one of our highly trained estimators who can help you with the design and planning portions of your project. This process continues with our project management and construction crews, who aim to assure that your needs are met and that you're fully satisfied with the proposed timeline, budget, and outcome. Our highest priority is to ensure a positive experience that enhances the quality of life for our customers and leaves them with a finished product they can enjoy for years to come.
---
Our Vision
Exceptional Service and Professional Workmanship
Kay2 Contracting's vision is to provide premium renovation and home improvement solutions by combining our clients' needs and desires with extraordinary designs, exceptional service, professional workmanship, and integrity. Every customer, private or trade, large or small, will receive the exceptional service they deserve. We work to exceed expectations in everything that we do, and we always hope that our past customers will come back to us for future projects, and refer our services to others in the area. We understand that your home is a major investment, and we take great pride in working closely with you to create the space you've always wanted.
---
Why Choose Kay2?
With so many companies offering home renovations and remodeling services in Calgary and Edmonton, you may ask yourself many questions when choosing your Contractor. Why should clients work with Kay2 instead of another local company? What can we offer you that other companies cannot? At Kay2 Contracting, we have brought together the expertise of many local professionals to create a company unlike any other. When you choose to work with us, you can feel confident that you will receive:
Competitive Pricing:
The lowest price is not always the best price. We work hard to ensure that our pricing is reasonable. When clients compare apples to apples, we are often the most efficient price for the value and quality provided. Kay2 offers a price match guarantee when comparing estimates with other qualified contractors. When you choose Kay2 over the lowest bidder, you can rest assured that you're investing in quality work that won't need to be revisited months or years after it's been completed.
Quality Service:
The ideal of producing quality results is what our business was founded on. Clients are hard-pressed to find another company that provides our level of unsurpassed dedication and commitment. We don't know how to do anything less than the best!
Project Timelines:
At Kay2 Contracting, we understand that timing is important as well as valuable. Through meticulous planning and scheduling, we endeavor to finish a project by the completion date we have given at the outset of our projects. Our clients are routinely updated about the progress of our work so that they are never left in the dark. Unlike some of the other remodeling companies in the area, you'll never have to worry about playing phone tag or waiting weeks on end for updates!
Basic Design Included:
There is no extra charge for basic design work, saving our clients hundreds of dollars. Should clients wish more in-depth interior design services, a reasonable-rate package is offered.
Communication with Clients:
In addition to meetings with clients, we send weekly status emails so our clients know what to expect for the week ahead. Our timeline and decision schedules also enable clients to be aware of what decisions need to be made and by when.
Experience:
The team at Kay2 Contracting has more than 25 combined years of experience in the home construction industry. All of our tradesmen are highly experienced and professional. On homes where we have done additions, clients cannot tell the difference between the old and the new — our renovations are seamless.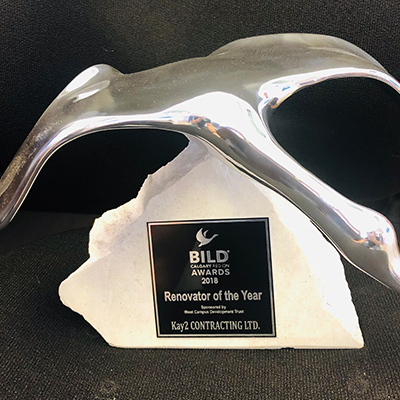 Award Winning Contractor In CalgaryTop 14 Best contractor in Calgary
Are you ready to get started on the renovation project you've always wanted? Fill out the form below or give us a call to schedule an estimate!
We look forward to speaking with you.